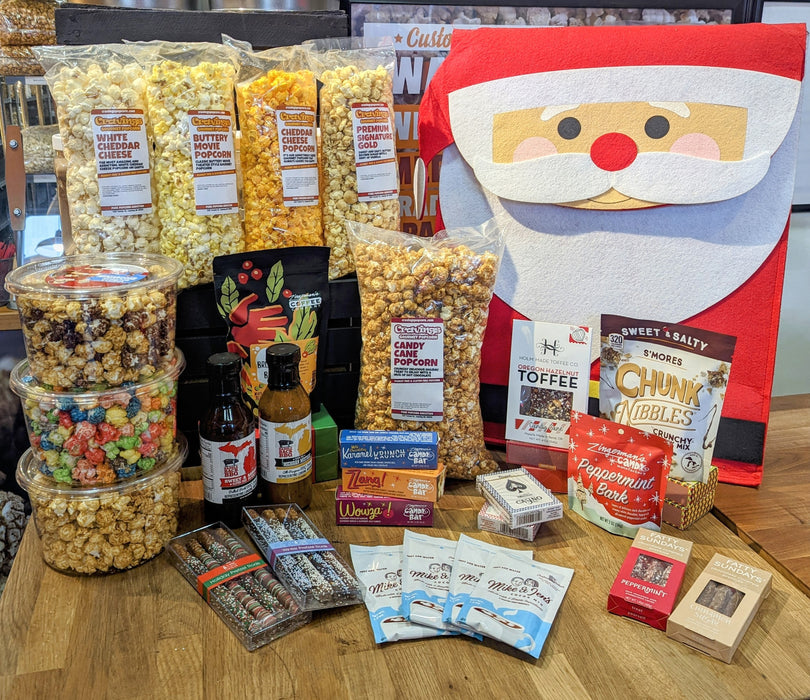 Santa's Bag of Goodies
Santa's Bag of Goodies is here for a limited time, while supplies last! Filled with fresh, flavorful popcorn, classic entertainment, and lots of goodies, this Santa bag is the perfect gift for the whole family! 
Here is what is inside (items may vary slightly based on product availability):
Santa's Favorite Cravings Popcorn:
3 tubs of Popcorn (5 cups each): Fruity Rainbow, Vanilla Bourbon Brownie, Butterscotch Caramel
4 Tall bags of Popcorn (8 cups each) : Premium Signature Gold, White Cheddar, Buttery Theater, Cheddar
1 Big bag of Popcorn (16cups): Christmas Candy Cane

Roudolphs Favorite Zimmerman's Candy Bars:
Karamel Krunch! Rich Dark Brown Sugar Caramel, Crisped Rice and Creamy Milk Chocolate
Wowza! Raspberry Chocolate Ganache, Raspberry Nougat & Raspberry Jelly Candies
Zzang! Butter-Roasted Peanuts, Caramel & Peanut Honey Nougat Dipped in Dark Chocolate
Other Goodies Favorited from the North Pole:
•Zimmerman's Peppermint Bark (2oz)
•2 Saddleback BBQ sauces
•4 Packets of Hot Cocoa Mix
•1 bag of Whole Bean Medium Roast Coffee (8oz)
•2 packs Fatty Sundays Chocolate Covered Pretzels (3 pretzels/pack)
•1  package of Holm Made Toffee Co. (4oz)
•2 packs of Capital Candy Jar Chocolate Dipped Pretzel Rods (4 pretzels/pack)
•2 decks of classic playing cards
•1 package of S'mores Chunk Nibbles (2oz bag)
• Hammonds Box of Cookies (5oz)
• Hammonds Classic Ribbon Candies (5oz bag)
SHIPPING INFORMATION

Orders ship Monday through Friday within 48 business hours with tracking numbers. Occasionally delays happen due to popcorn production, weather, shipper delays out of our control (UPS or USPS), and events out of our control. If you need an order by a specific date, give yourself some extra time. Do not wait until the last moment.

Sold out
Original price
$99.95
-
Original price
$99.95